(Back to the) Future Day Sale at Design By Humans
Future Day, October 21, 2015:
destination of Marty McFly and Doc's DeLorean
in Back to the Future
How will you celebrate Future Day? What could be better than a sale? (Note: you don't have to wait until the 21st to take advantage of it.) Design By Humans has been showcasing the work of great graphic artists since 2007 and has an extensive Back to the Future themed collection available on t-shirts, hoodies, phone cases and more. Here's one of my favorites: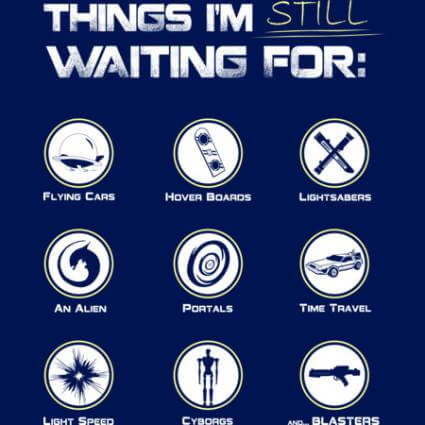 We can't blame Doc Brown for the lack of hover boards (or lightsabers, for that matter). If Marty shows up, with the resurgence of all things 1980s, how will he know he's in the future at all? We may never hear his answers to our pressing questions:
Did you cross paths with Kyle Reese? How could he father his friend?
Why did Starfleet need whales to communicate? Was the translator not, in fact, universal?
Are Bill and Ted smarter than they look?
For now, we can pass the time by celebrating the Back to the Future saga with this special sale through DBH: Enter coupon TEELIGHTFUL for $10 off all t-shirt orders of $100 or more. If you're new to the site, sign up for DBH's newsletter and receive a welcome gift of 20% off your first order.
But hurry. Future Day is almost past. Though I would never recommend exceeding the speed limit, I've heard that 88 mph and 1.21 gigawatts of power are recommended.
More info:
October 21 is Back to the Future Day
https://greatestteesonearth.com/wp-content/uploads/GToELogo3-300x137.jpg
0
0
Kathleen Zea
https://greatestteesonearth.com/wp-content/uploads/GToELogo3-300x137.jpg
Kathleen Zea
2015-10-09 13:51:11
2022-04-29 01:10:14
(Back to the) Future Day Sale at Design By Humans