I've finally (kinda) hit the big time. I am featured in Sunday's New York Times Magazine "Culture Issue." In fact, I'm mentioned in the opening paragraph of this excellent article by Dan Brooks:
Earlier this year, before everything happened, I went to New York City to survey the state of American political comedy, which has never felt more important — or more fraught. At a taping of "Full Frontal With Samantha Bee," I met a woman from Astoria who had brought a birthday present for the host: a mock campaign poster promoting Ripley-Hicks 2020 — the two main characters from "Aliens" — emblazoned with the slogan "It's the only way to be sure."
That's me: woman from Astoria. Permit me to explain.
After I decided to start selling the anti-Trump stuff I'd been making for myself since the first Women's March, I came up with the brilliant marketing idea of wearing one of my T-shirts to tapings of comedy shows—Last Week Tonight with John Oliver (@LastWeekTonight), The Late Show with Stephen Colbert (@colbertlateshow), The President Show (@PresidentShow), The Opposition with Jordan Klepper (@jordanklepper), and Full Frontal with Samantha Bee (@FullFrontalSamB)—and hoping someone would notice it.
By the second time I went to Full Frontal, I had a business card and stickers. (I gave those away at protests hoping people would go to my shop and buy something. More marketing genius.) I brought a Ripley Hicks 2020 campaign sign to give a staffer who'd hopefully pass it on to Sam, who'd mentioned on Colbert that she'd named her daughter Ripley. I wasn't thinking she'd make me famous but I thought as a fellow Ripley fan, she'd appreciate it. As it turned out, it was the last show taped in front of a live audience because of COVID-19. For all I know, it was burned.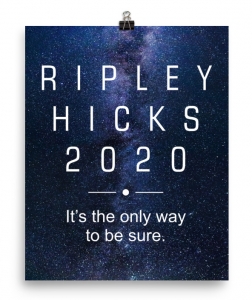 At the taping, a guy in the audience overheard me talking about it and asked me what I was giving to Sam. So I showed him and gave him some stickers and a business card. Turns out he's a writer for the New York Times Magazine. He reached out for some basic info for an article he was writing on comedy in the age of Trump. Needless to say, I was excited at the prospect of being mentioned. It looked like my lack of marketing savvy was finally paying off.
Once the coronavirus took over every news cycle, the article was put off for several months. At long last, the article is out. It's brilliant. Everything Dan Brooks has written about humor is worth reading. I especially love his article about Tony Atamanuik, whose Donald Trump transcends mere impersonation. (I'm looking at you, Alec Baldwin.) inhabited  Donald Trump on The President Show and should have been beamed into our living rooms every week to keep us sane.
Dan mentions the Ripley Hicks sign I designed two years ago. Unfortunately, since then, many others have either seen my idea and done their own versions or just thought of the same thing independently. So my design doesn't even show up on the first page of a Google search for those words. So I figure there are a few people who are going to be happily surprised to get some extra sales of my xenomorph vs. xenophobe tee.
Still, I'm thinking of having my name legally changed to Woman From Astoria. Maybe "Kathleen" has been holding me back all these years.
https://greatestteesonearth.com/wp-content/uploads/Ripley-Hicks-2020-Fighting-Words-Designs-e1602274698130.jpg
336
274
Kathleen Zea
https://greatestteesonearth.com/wp-content/uploads/GToELogo3-300x137.jpg
Kathleen Zea
2020-10-09 16:20:17
2022-04-29 01:10:33
Woman from Astoria
I've always loved funny tees. A lot has changed since 2013, when I put this directory together to share favorite designs I find all over the Web. For one thing, Donald Trump became president and life became a series of increasingly bizarre situations. I've always been a smartass but Trump made me an activist. After I went to the first Women's March (in NYC), I started making protest signs for myself. People liked them so I taught myself basic design using freeware and started a business, Fighting Words Designs, to sell anti-Trump tees, signs, stickers, and buttons, among other things.
I heard a lot of advice that I shouldn't make political designs because I'd alienate people. Or, if I insisted on going ahead, I should make pro-Trump tees as well. I ignored that because I can't make something I don't believe in and also, not doing something I feel passionate about would drain the joy out of it. Also, if I went to a site that sold both Republican and Democratic party stuff, I wouldn't shop there. It feels disingenuous to play both sides of the fence.
I understand that it's a bit odd to build a whole business around designs that I desperately want to become obsolete after Election Day. (I have plenty of other subjects to create designs around. I'm never going to run out of fighting words.) Rather than feeling defeated, I went ahead and did what I wanted. I didn't sell much but it was a creative outlet for me, one that I could turn to combat the demoralization I felt watching the news.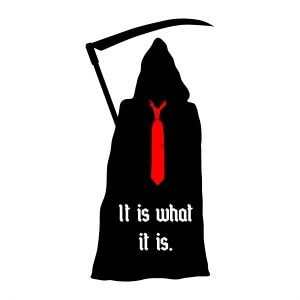 Gradually, people's outrage has caught up with mine. I'm never going to get rich with this but I've had the opportunity to connect with customers and make friends around the globe. That's been especially gratifying since COVID-19 hit and all my relationships, except with buddies I see–masked up and distanced–at protests, have become virtual. I've registered voters here in NYC, too, and the interactions have been overwhelmingly positive, with a couple notable exceptions. But nothing came to blows so I consider that a win.
While I've never stopped linking to new tees and cool stuff I find, I've neglected this blog in the last four years. After all, if you've landed here, you're looking for T-shirts, not my deathless prose. If you're still reading this and are interested in my stuff, check out my shop, Fighting Words Designs. And thanks for sticking around. I'll keep letting you know when I find funny stuff and, hopefully, soon I'll need to repopulate my own shop with new stuff that has nothing to do with Donald Trump!
https://greatestteesonearth.com/wp-content/uploads/Grim-Reaper-Trump-scaled-e1597085134641.jpg
450
450
Kathleen Zea
https://greatestteesonearth.com/wp-content/uploads/GToELogo3-300x137.jpg
Kathleen Zea
2020-10-08 17:31:23
2022-10-19 10:03:02
Vote with Your T-Shirt 2020